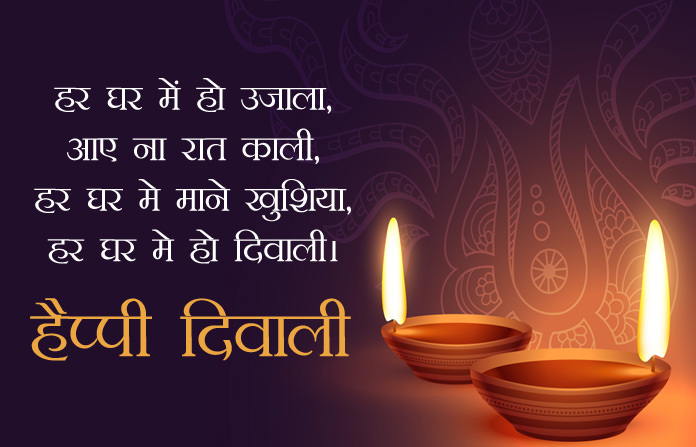 Diwali Quotes in Hindi
With gleam of Diyas
With gleam of Diyas
And the Echo of the Chants
May Happiness and Contentment Fill Your life
Wishing you a very happy and prosperous Diwali
Sunhari Dhup Barsat ke Bad
Thodi Si Hashi Har Bat ke Bad
Usi Tarah Ho Mubarak App Ko
Ye Nayi Subah Kal rat Ke Bad
Happy Diwali 2014
Kumkum bhare kadmon se aaye Lakshmi apke dwar,
Sukh sampati mile aapko apar,
Deepawali ki shubhkamnaye kare sweekar.
HAPPY DIWALI
Diwali ke Is Mangal Avsar par,
Aap Sabhi ki Manokamna Puri ho,
Khushiyan Apke Kadam Chume,
Isi Kamna ke Saath aap Sabhi ko,
Diwali ki Dhero Badhaiyan.
Diye Se Roshan Rahe Aapka Ghar Dwar,
Khusiya Aaye Jivan Mein Bar Bar,
Safalta Har Dum Kare Aapka Intezar,
Diwali Ki Subh Kamnao Ke Sath Dher Saara Pyar.
May the gift of happinessand prosperity fill your heart and home with joyon Diwali and always….!!! Happy Diwali !!!
Sher Chupkar Shikar Nahi Krte,Apne Kabhi Khul Kar Var Nhi Krte,
Hum Wo King Hai Jo Happy Diwali Kehne Ke Liye 23October . Ka Wait Nhi Krte….Wishes U & Ur Family A Very Delightful And Safe Diwali. May Goddess Laxmi Fulfill Ur All Wishes….
"Aayi Aayi Diwali Aayi.Rango Ki Rangoli Aayi" "Saj Sjawt Hai Sath Ye Layi. Kusiyo Bhari Diwali Aayi" "Aayi Aayi Diwali Aayi Aao Milke Khaye Mithayi" "Mnaye Diwali Fode Ftake Mil K Jhume Or Gaye" "Diwali"Hum Sath Mnaye" "Aayi Aayi Diwali Aayi" "Happy Diwali
Raat Ko Jaldii Say Nendh Aagai,
Subah Uthay To Diwali Aagai..
Socha Send Karon Aap Ko Diwali Sms,
Daikha To Aap Ki Miss Call Already Aagai
May this diwali light up new dreams,fresh hopes,undiscovered avenues,different perspectives,everythin bright & pleasant surprises and moments.
Happy Diwali
For this, is a special time when family
And friends get together,for fun.
Wishing laughter and fun to cheer your days,
In this festive season of diwali and always!!!!!!!!
Happy Deepawali 2014
Wishing each one of you a very happy and prosperous deepawali. May this year brings you lots and lots of happiness in life and fulfill all your dreams.
Safalta Kadam Chumti rahe,
Khushi Aaspas ghumti rahe,
Yash Itna faile ki KASTURI Sharma Jaye,
Laxmi ki kripa itni ho ki BALAJI bhi dekhte rah jaye,
Naino K Kajal Se
Khwabo K Aanchal Se
Mehki Bahar Se
Is Gul-e-gulzar Se
Dil Ke Har Taar Se
Bade Hi Pyar Se
Kahta Hu Aapse
Happy Diwali
Aayi aayi Diwali aayi, Saath me kitni Khushiya laayi, Dhoom machao, mauz manao, Aap sabhi ko Diwali ki badhai.
This diwali tumko mile, Rathore ki Aim, Film stars ka Fame, Game show ka Jackpot, Hit film mein ek spot, Jadoo ki chhari, lots of crackers aur phuljhari, sab ka dher saara pyar aur dosti, and lots n lots of fun n masti, Wishing u a very HAPPY DIWALI, 4rm your Sweet Friend
Diwali aai, masti chahi, rangi rangoli, deep jalaye, Dhoom Dhadaka, choda phataka, jali Phuljadiyan, Sabko Bhaye, "Happy Diwali
diwali sms in hindi diwali sms in english diwali sms 2014